Palmerston Moving: #1 Trusted Moving Companies in Toronto
Your Best Decision Among Moving Companies Toronto
We at Palmerston are present across Canada. We are among the best rated and respected moving companies Toronto. You are looking for "movers near me" or "moving companies" anywhere in the country, but mainly in GTA, search no more. Palmerston Moving is always near you for any kind of service.  Moving, delivery, storage, and packing. At Palmerston Moving we have an experienced team and counting with about 10 years of experience we are sure we are your best choice. Take some time to read 5 Tips for a Move. No matter what your necessity is, we will be happy to help, always, no matter what your necessity is, we do fit it.
Your Moving Companies Toronto For A Stress-Free Moving
Moving your home is our business. We are proud to offer the best moving service to all our customers. That is why we are the best option for many consumers. Our services include moving of any size, HOME MOVE, CONDO MOVE, and IN-HOME MOVE any city in the country. We offer domestic moving services or not, without small print in the contract and without any surprise fees. You can count on our kind staff at any time. They will always be one step ahead to ensure the best and stress-free moving that a non-professional move could cause to you. Palmerston Moving is #1 Trusted Moving Companies Toronto.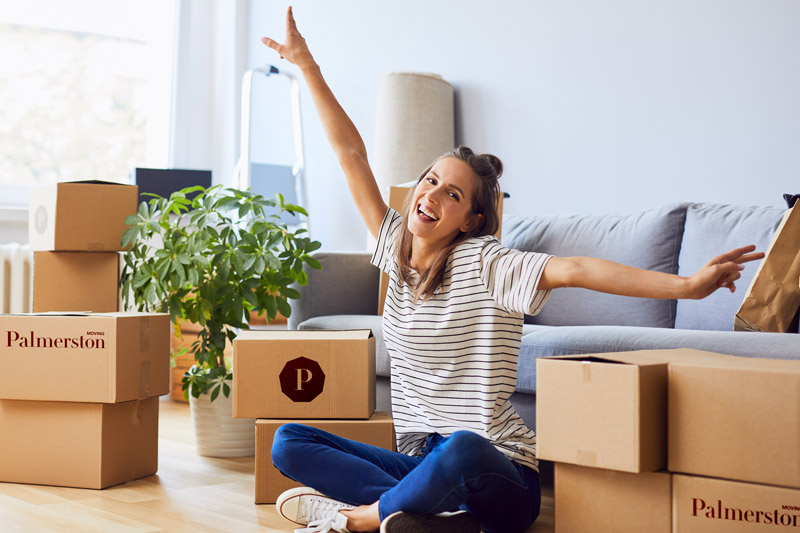 Palmerston Top Of Mind Among Moving Companies Toronto
Toronto or across Canada moving services, whether for QC, BC, ON or any other Canadian Province, requires great care. We know that everything in your house is a piece of your history. They are furniture or objects that remind you of important dates and occasions, remember special people and mainly, tell who you are, and in a long national moving require great care in transportation. Start this new chapter of your life with peace of mind and without any setbacks. Let Palmerston Moving go down in history as the company that helped you move for better. In all our moving, we pack crystals, porcelain, and other fragile objects individually, protected in extra resistant boxes. Bed and table linen will be packed in cardboard boxes lined with tissue paper. Clothes for personal use may be transported in horizontal boxes (suitcase type) lined with tissue paper or kept on hangers, in big boxes wardrobes like. Call us today to get a free quote and we will make sure your move flows smoothly and stress-free
Moving in difficult time,Toronto can count on us
Moving is a hard task no matter the time, however, there are some peculiar situations to make it more difficult, a crisis time. Despite the fact that we live in a relatively stable world, some events can make it become a complete uncertainty. Recent events made the world population think about their lives and reason about what is really important for the humanity. Thinking about it, we at Palmerston Moving have increased training to all employees in various case scenarios. Besides this, we follow the government rules maintaining essential services in order to help our community and keep them safe all the time. Our delivery service is available at any time, since the government allows or requires it. Whether you buying or receiving something from any family member or a friend as well as sending something for them, don't waste your time looking for other companies, because Palmerston Moving will be wherever and whenever you need. Give us a call and you wont regret; Our customer services representative will be happy to help since the very first call till the end of the required service.
Moving Box – Packing Material Premium
Palmerston Moving always care for our customers and their stuffs, and for that reason we offer only prime quality packing material. Special material such as Bubble wrap, cardboard boxes, mattresses chair and sofas covers, china boxes, and much more, moreover we offer the option of renting our special plastic containers to help you in organizing everything. Besides the material, we also offer packing services. Our team is fully trained in all moving steps, from your very first call till removing the last piece of remaining packing material from your new place, passing through preparing, disassembling, packing, moving, unpacking, assembling, and placing your furniture where you wish, we perform everything. Would like to learn how to pack properly? Take a look in this article by our partner, it may be helpful. If you have any concern about packing services, do not hesitate to Call us immediately and our team will be always ready to assist you at any time.
Some of our Toronto clients' reviews.
We hired Palmerston for a cross-GTA move and the day ran very smoothly. Friendly and professional service throughout the whole process. Estimates were provided and all my questions were answered promptly. The guys arrived on time with all the blankets and shrink wrap ready to protect our furniture. They wrapped everything and moved with care. We also appreciated the up front travel fee policy because traffic and travel time didn't increase our bill. Highly recommended!

We engaged Palmerston Moving to relocate the contents of our home where we lived for 27 years. We had a lot of delicate furniture, and we sought out Palmerston to transport our furniture so that there was no damages to our previous home, future home, and of course our furniture. Mission accomplished...

Palmerston Moving was a pleasure to deal with. They were professional from start to end. I felt confident that my furniture was being packaged and stored safely. I was impressed how efficient they were able to move my furniture. Your in excellent hands! The best I have worked with. Thank you!

We're extremely pleased to have Palmerston as the exclusive partner for our delivery services. We've had a long relationship with their team and feel strongly that they are the perfect partner for us in meeting our goal to provide world-class customer experience.

We use Palmerston Moving on a regular basis as a third-party delivery service to deliver sofas and oversized items to our customers. They are always incredibly prepared, on time and accommodating - everything you would expect from a white glove service. I highly recommend them!

As an interior design company, we've been working with Palmerston Moving for over 6 years now and are completely satisfied with the service they provide. They are very professional, flexible with their schedule and reliable.

Palmerston is incredibly professional and reliable. They are an affordable white glove delivery service and the only movers I trust with my clients!

I use them for my client's high-end furniture moves, seasonally and for parties. We use them exclusively because of their great customer service and competitive rates.

We've been working with Palmerston for over 4 years now and have never had a bad experience. They are always extremely prompt on response times and have re-arranged their schedules to make our deadlines work on numerous occasions. Their team always operates with the utmost level of professionalism and knowing we can trust them with all of our moving needs is so critical in our line of work. I would absolutely recommend Palmerston for any move, big or small.

Palmerston is our trusted moving partner when furnishing our model homes. They are friendly guys that handle every project with care and in a timely manner. They have always been accommodating to our schedule which is very helpful, and always go above and beyond. We always look forward to working with them as I know our furniture is in great care.
Let us be part of your moment. It makes us happy and proud
Residential moving is, above all, opening up the possibility of experiencing new emotions in new settings. It is to rediscover the smell of your home, the distribution of your furniture, in short, the privilege of being able to build new stories. Palmerston Moving can help you move. For over 10 years, the best cost/benefit option for your residential move, be it local, provincial or across the country with the use of its fleet of modern trucks. Moving to other provinces is perfectly successful, as Palmerston Moving is present throughout Canada, with a highly trained and capable team of professional movers, your reference among moving companies Toronto.
In Toronto or any other part, We straighten up everything for you
Organization is one of the most important things for a success moving service. A household or any other move is never an easy task, since you have lots of different ideas, objects, and procedures to organize. According to Designers Movers in 10 Tasks to do on Moving Day and take the opportunity to spend some time reading Tips to Organize the Process . For sure your will find a solution for that. If you have any doubt, please give us a call as soon as possible and we will be here to help. It will be our pleasure. Call Palmerston and have a stress-free move.